Machine Maintenance and Care
You've purchased your amusement machine, installed it in your location and now your ready to plug it in and forget it. You could do that and let the machine run until problems start occurring, or you could give it some regular maintenance to keep it in tip-top shape to prevent premature issues. Let's look at some simple maintenance and preventative measures you can take to keep your investment up and running for longer.
POWERING DOWN YOUR MACHINE BEFORE CLEANING INTERNAL COMPONENTS IS HIGHLY RECOMMENDED TO REDUCE RISK OF DAMAGE
Nothing is quite as off-putting for customers like walking up to a machine only to find that the buttons and touchscreen are smudged with dirt and grease from other players. Keeping the buttons and touchscreen cleaned and sanitized will make it a much more inviting for your patrons. Unfortunately, its not uncommon for drinks to be spilled on a machine, so it's important to take the buttons out and clean them before they become sticky.
You might already wipe down the outside of the machine to keep it clean and looking presentable for customers, but don't neglect the inside of the machine. Dust build-up can cause serious damage to electrical and mechanical components over time. Be sure to vacuum inside the machine, paying attention to the fans if any. Having a can of air to blow out dust from behind components can be a great tool as well.
Making sure your bill acceptor is at peak performance is crucial. If a customer can not insert notes, or the bill acceptor has intermittent performance, then they will be less likely to play that machine. An easy way to help with this is by cleaning the bill acceptors sensors. Bill Acceptor Cleaning Cards make this quick and easy. Depending on the volume of usage, once to twice a month will do the trick. Moving back to the outside of the machine, lets look at potential threats to your machine.
Your machine can't defend itself unless you give it the tools to do so. Installing a Security Bar and lock on the machine will greatly reduce the possibility of break-ins from thieves. Additionally, power surges are an all-too-common risk as well. Placing a power surge protector between your machine and the outlet can save you from having to replace damaged components.
Finally, make sure to have extra printer paper on hand and spare bill acceptors, printers, monitors, and other crucial components. Having those extra parts will allow you to keep your machine running by swapping them out and sending in the damaged parts for repair. Otherwise, your machine could be out of order for days or weeks and cost you a small fortune in missed revenue.
Summary
Be proactive and keep your investments up and running longer by doing simple cleaning, acquiring security devices, and keeping spare parts on hand.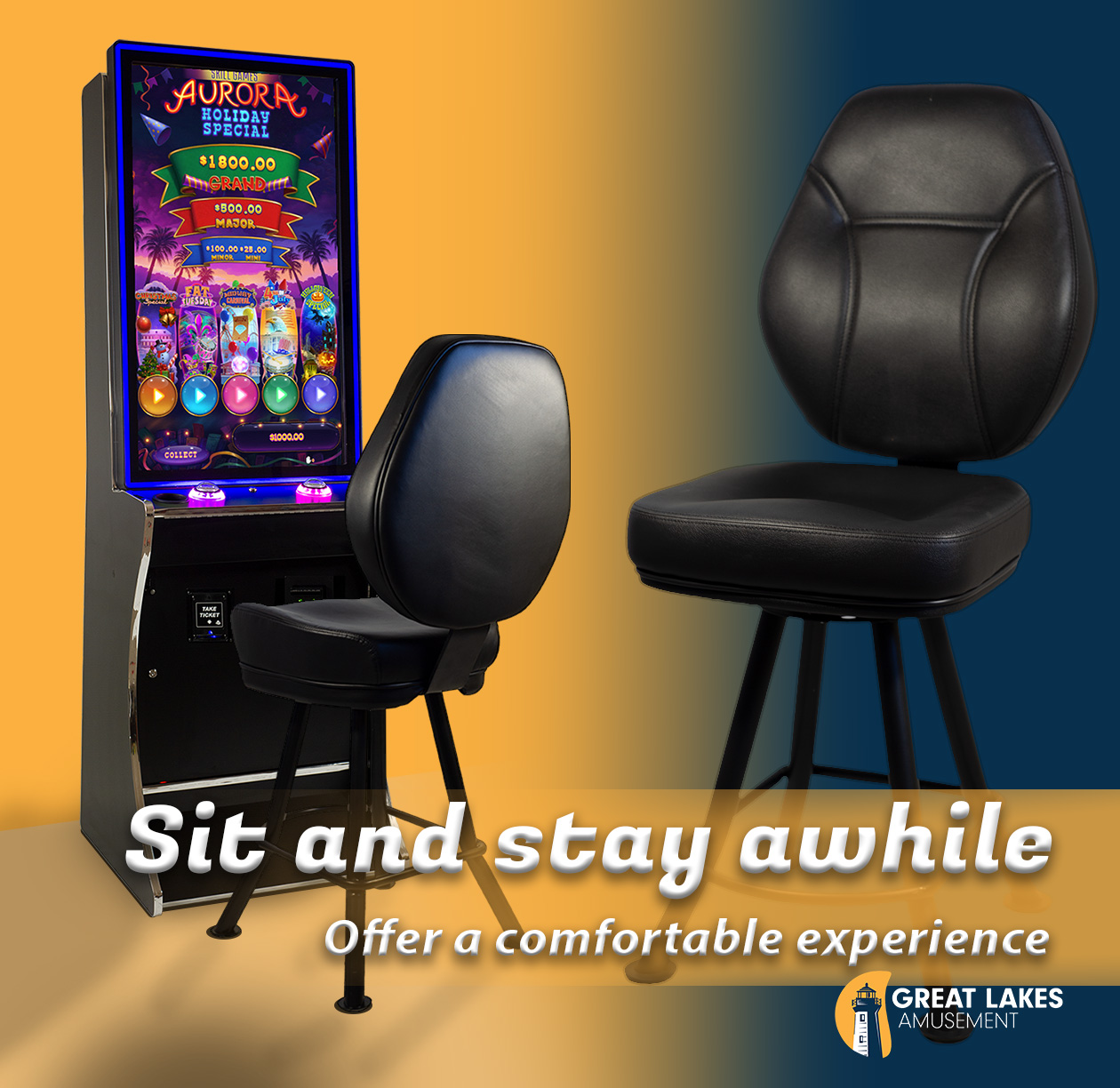 Don't forget stools for sit down and stand up game play!
Offer a comfortable experience to your customers with these quality made stools. 25" and 28" options available. Thick cushioned seat, back rest and durable metal frame. Swiveling action allows for ease of use. These stools are made of high quality materials and are built to last.